Interpreting
We can arrange various types of interpreting for your company, including court-certified interpreting. We can recommend what type of interpreting is the most suitable for your company and can also provide interpreting equipment.
When arranging interpreting, we do not only concentrate on the language skills and professional qualification of the interpreter, but also on his/her knowledge of the area and cultural environment so that we can provide our client with the most integrated interpreting service.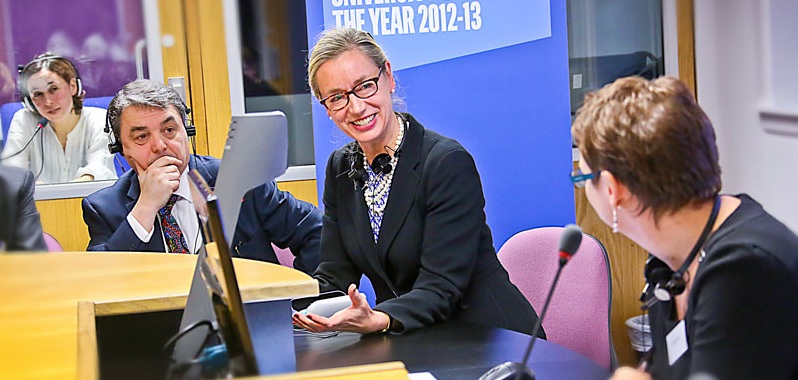 Certified interpreting
We arrange court-certified interpreting or in other words legalized interpreting for marriage ceremonies, registry records, lawsuits or when required by respective authorities.
Consecutive interpreting
During consecutive interpreting, the interpreter speaks after the source-language speaker has finished speaking. When the speaker pauses or finishes speaking, the interpreter renders a portion of the message in the target language.
Consecutive interpreting is particularly used during business meetings, training sessions, presentations, seminars and similar events, usually without any interpreting equipment and for a smaller group of people.
Simultaneous interpreting
During simultaneous interpreting, the interpreter renders the message in the target language while the source-language speaker continuously speaks. This type of interpreting is suitable for conferences, seminars, presentations and similar events, usually for a large group of people. Such interpreting usually takes place with the use of conference (interpreting) equipment, such as a sound-proof booth for interpreters and earphones for all participants.
We also provide accompanying interpreting, over the phone, whispered interpreting or interpreting for company presentations, business meetings, start-ups or business trips.
What we interpret
We can provide interpreting in any possible situation and line of business. We interpret at weddings, lawsuits, start-ups of equipment or production lines, conferences, business meetings, company presentations and more.
Who interprets
We work with a large group of interpreters of various world languages who approach each interpreting session conscientiously and professionally. Thanks to them we can provide high-quality interpreting services in all possible language combinations.
How does it work?
The calculation for any interpreting services is free of charge

Interpreting is charged in 4-hour segments

We ask you for basic data related to the interpreting in order to ensure high quality

We can arrange interpreting in express term

We can provide interpreting equipment

We interpret in various language combinations

We also interpret on weekends




Loggos
Translation Agency
Tel.: +420 773 557 34
E-mail: loggos@loggos.eu